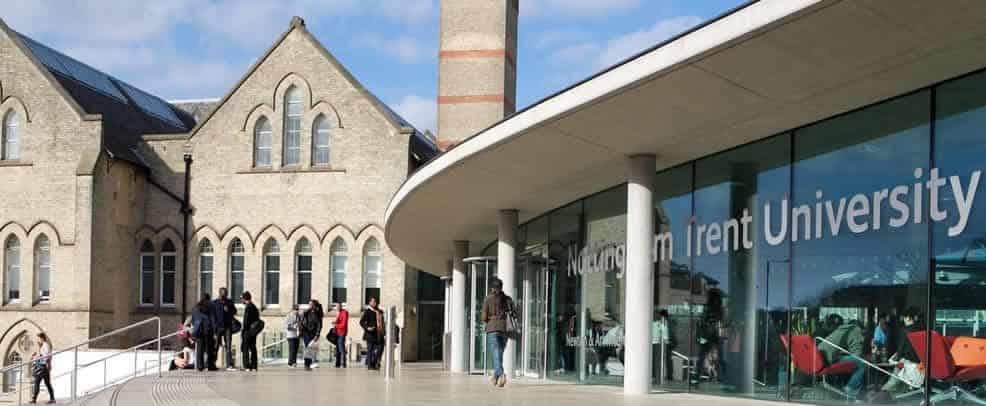 We launched Mindapples for Universities in September 2021 and so far we've worked with hundreds of students to help them to take better care of their minds. We've done this by working in partnership with teams from Student Services, Student Associations, Marketing and Digital Communications to deliver our support in a multi-departmental, cross-campus campaign.
So what exactly have we done, and how has it helped students?
We thought we'd shine a light on the work we're doing with Nottingham Trent University in particular, to explain the elements of our university support programme and share some of the initial student feedback.
Launch webinar: "How to feed your mind"
We delivered our popular Feed your Mind webinar for free to students (and a few members of the Student Services team too), exploring how our daily routines influence how we feel and what we can do to take better care of our minds. It was a great session with lots of really engaged and enthusiastic participants! Students shared some really positive feedback with us too:
"I want to figure out what my 5-a-day are and make sure I include them in my everyday routine."

"I really liked how simple but informative the session was. Very easy to understand but clearly evidence based."

"I really appreciated the simple examples and the clearness of the definitions."
Mindapples Champion's Training
We trained three NTU students as Mindapples Champions this year! Our Mindapples Champion's Training is our foundation course to teach people how to deliver our core training materials themselves. The course covers all our material on wellbeing, resilience and how to get people talking positively about their minds. This was a key element of our University pilot, because we wanted to help students take more control of mental health promotion in their universities. The training supported these students to talk more confidently to their peers about mental health and wellbeing.
Since completing the training, two of our Champions are about to deliver their first Feed Your Mind webinar to the mental health volunteers at NTU and we can't wait to hear how it goes! Here's what one of our NTU Champions said:
"The training session was very powerful! The team seems to be very well put together and everyone seemed like up to date with each other in terms of delivering the content. I specifically enjoyed the activities where we had to pick our top 5 favourite things that helps us deal with our mental well-being. It was very considerate of the team to ask us, it felt like a safe space to be in where like-minded people had gathered to help others whether it's ourselves, friends, family or strangers."
The Mindapples App
We've also offered every student at NTU the Mindapples app for free. It's a great stand-alone resource, as well as a follow-on tool from the training sessions, and a bit like having one of the Mindapples Team in your pocket! The app is a tool to help you learn about your mind and choose how you want to take care of it. You can listen to audio clips to get ideas on how to manage your mind better, share what works for you and browse other people's suggestions for new ways to look after your mind.
Students thought the app helped them to…
"Take a proactive approach to my mental health, the same as my physical health – consider them two sides of the same coin."

"Make me consider little things, help me to pay attention to what is happening in my mind."
There's more!
We also give all of our partners full access to our 50 Ways campaign assets, and NTU have used them so well! They've been featured in students newsletters, in social media posts, in Teams channels, on campus screens and even on their fitness equipment screens. We were also invited to do a Mindapples Takeover on the NTU instagram channel which was so much fun! Here's our 50 Ways posters at their recent Freshers Fairs.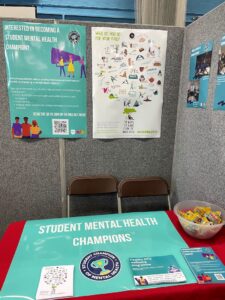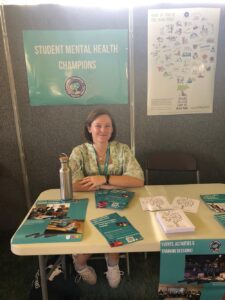 Mindapples' Head Gardener, Andy Gibson, also featured on the fantastic NTU Anxietea podcast, thanks Paul and Zahra for having us!
There's more to come but for now we're very grateful to be working with Nottingham Trent University Student Support Services to deliver our programme of Mindapples tools and resources. The team at NTU SSS are expertly spearheaded by Paul Dodsley and Leah Wareham and we're thankful to have such engaged, resourceful and enthusiastic partners.
If you'd like to find out more about Mindapples for students or get your university involved in our free programme, please contact elaine@mindapples.org.