Wellbeing and resilience support for schools and youth groups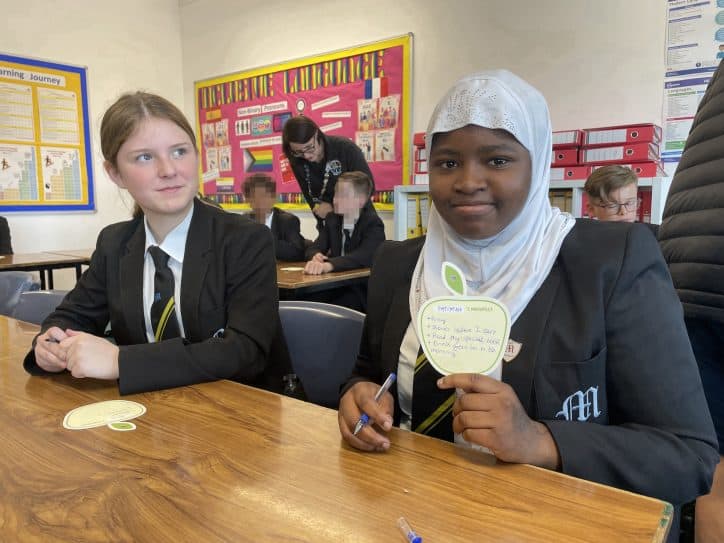 Mental wellbeing and resilience became a statutory part of the curriculum for primary and secondary schools in September 2021, and Mindapples wants to help schools deliver on this promise to young people.
Working with schools across the UK, Mindapples has developed a package of training and classroom resources to support teachers in delivering the new curriculum, and developing an approach to mental wellbeing that can benefit the whole school community of staff, pupils and parents.
Working with both Primary and Secondary schools, Mindapples for schools aims to create a school environment where staff and pupils feel comfortable talking about their minds, and help schools contribute to the public health and wellbeing of their wider community.
In December 2022, the Mindapples Charity took part in the Big Give 2022 to raise more money to support UK schools in 2023. We raised over our £24,700 thanks to the kindness of our supporters and funders. Thank you to everyone for getting involved in the campaign!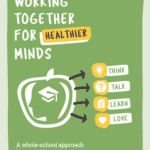 Read more about our school support package (PDF, 654KB)
Our approach is education-focussed, helping teachers do what they're good at: sharing knowledge and helping pupils apply what they have learned to their lives. Clinical interventions are important, but we want to reach all children and those who care for them, building an inclusive and accessible conversation about looking after our minds.
We offer a virtual teacher training and eLearning, alongside wellbeing promotion packs, lesson plans and assembly resources. All our materials focus on established cognitive science that's relevant to school life, such as handling pressure, finding motivation and managing moods.
Know a school that could use our help or are you part of you a Multi-Academy Trust? Please email schools@mindapples.org to find out more.
Courses can be arranged for inset days to suit your availability or you can join one of our regular courses.  Please email schools@mindapples.org to find ut more or ring 0203 7743279.
What our partner schools say
The Heath School, Runcorn
"Friendly delivery and a nice, small amount on the training. Every school in the country should attend this training, it's never been more important for us to prioritise that of our students and our own mental health."   – Rachael Jenkins
Mayfield School, Portsmouth
"It was a really well run, well delivered, well resourced and useful course which I thoroughly enjoyed. I will be delivering training on this to our whole staff body and I only hope I can deliver it half as well as you did, and inspire our staff to make a difference as you have me!"
– Judith Firth Assistant Head
Whitchurch Primary School, Stanmore
"I loved all the visuals and the handouts and resources, can't wait to use them at school! So excited to launch this to staff and pupils next term."
– Rajia Ahmed, Assistant Head
Dulwich Prep School, Southwark
"Mindapples and '5 a day' are really helping us to keep talking about mental health with the boys at the moment. The concept has continued to have a very positive impact even while they are learning from home and we hope they will be sharing more mindapples with their teachers next term that we can then put out to the wider school community – always nice to spread some joy!"
– Sarah Bronson, Senior Deputy Head
Atlantic College, Llantwit Major
"The Mindapples training surpassed all expectations I had for a thought provoking, interesting and informative training course! This has increased awareness and given us heaps of tips, information and practical advice on how we can support them. My team said it was the best training they had ever received and I totally agreed it was money well spent and got our academic year off to a very positive start!"
– Sarah Hamilton
Kingsteignton School, Devon
"I truly think a Mindapples approach can show school leaders how to boost the self esteem (and in turn the resilience and work ethic) of both teachers and children. I like that there's so much that teachers can learn from it to help themselves and once the teachers are in a better place that will already be having a hugely positive impact on the children before the children have even started thinking of their own Mindapples."
– Taran Sutcliffe
Mindapples: wellbeing and resilience for young people