Reminding everyone to do the things that work for them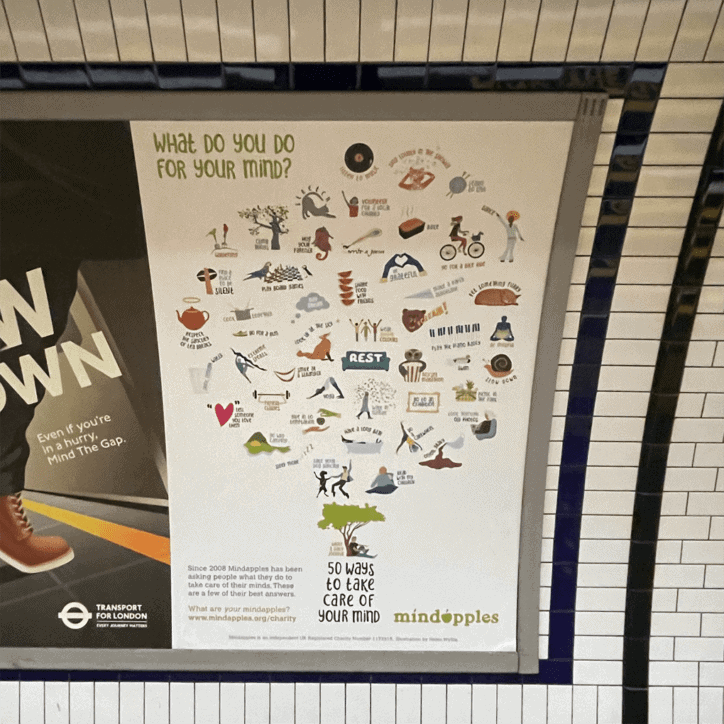 Since 2008, Mindapples has asked 100,000s of people what they do to take care of their minds, and we want to celebrate that. That's why we created the "50 ways to take care of your mind" campaign, to remind everyone of the many ways we can look after our mental health.
Mental health matters. The things we do every day make a difference to our health and wellbeing. It's time for all of us to talk more about what we need to be mentally healthy.
Most of our campaigns are online, sharing tips and ideas to get people talking more about their minds, but this time we're doing "real world" advertising too, putting posters on buses and in tube stations around Central London and Southwark to remind Londoners to look after their minds as they go back to their busy lives. Above all, most of our impact has always come from you, from the people who support our campaign, share our content and run events and workshops to get everyone talking positively about mental health.
Be part of the campaign. Download the campaign pack, and scroll down for more campaign assets to help you spread the word.
Campaign assets
We're really grateful to our illustrator Helen Wyllie for producing such wonderful illustrations for our campaign. Here are a few versions of her work for you to share on social media. All these assets are free for you to use to promote the campaign, but please remember to credit us!
Click on the images to download.
50 Mindapples bus advert

50 Mindapples tube poster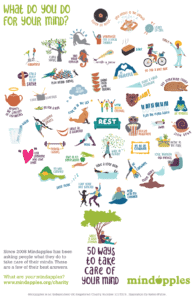 Facebook banners
Twitter banners



Linkedin banner

Zoom background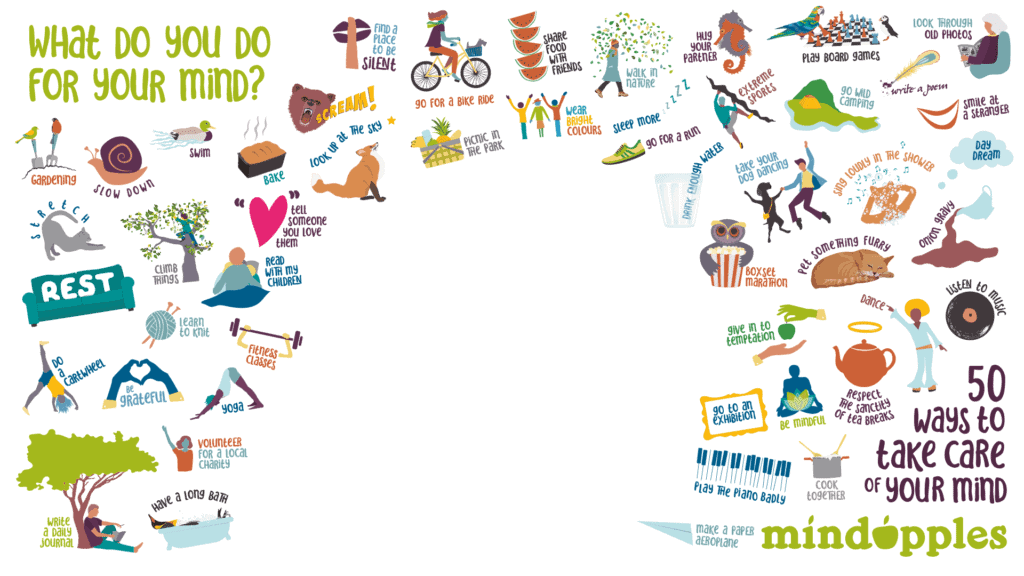 Selected illustrations
You can download all these assets and more from our campaign Dropbox folder:
http://mindap.pl/campaign-pack
50 ways for young people!
Following the success of the initial "50 ways to take care of your mind" campaign, we've developed a version aimed at young people. It's mostly the same (lots of the original suggestions were from kids anyway), but we've added a few new drawings and ideas to make them suitable for schools and youth groups.