This week we thought we'd hand over the Mindapples blog to one of our newest wellbeing champions. Tilly is a second year psychology student at Nottingham Trent University and recently completed her Mindapples Champion's Training as part of our ongoing universities wellbeing programme.
Over to you Tilly!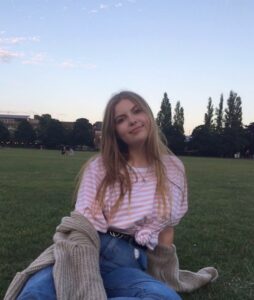 Coming from a background of finding it so interesting in knowing the different ways we can look after our minds, I jumped at the chance for the opportunity to take part in Mindapples training. The session was so much fun! It felt like a balance between an informal chat about mental health, combined with learning new ways to think about 'feeding your mind' that I, and others, can share to hopefully help those in our own communities- for me, that's others at my university! I especially loved the idea of having a 5-a-day for our minds as well as bodies. Mine are going for a walk, doing some colouring or scrapbooking, hanging out with my housemates, having a sing in the shower and treating myself to some chocolate-type treats.
Alongside how I feel that Mindapples training has been beneficial to me personally, it's been really lovely to see and learn how they are helping school children by doing sessions in primary and secondary schools. In school I knew next to nothing about how I could look after my mind and wellbeing which definitely took a toll on me later on (being an anxious child) when I didn't know how to cope with the challenges of navigating stresses of school, friendships or just general day-to-day wellbeing. However, if I had been given the chance to take part in something like a Mindapples session, teaching me how I can look after my mind, and simply just how it works and why we do sometimes feel lower or more stressed, I definitely would have found it immensely helpful and beneficial; it would have taught me simple strategies and signs to look out for when I needed to feed my mind a bit more than normal, as well as when I was neglecting it.
So, what I really was trying to say is, Mindapples training sessions are such a fun experience to take part in and the knowledge I've learnt from them I can tell will be so valuable to my life; I wish I could take part in them all the time! Alongside this, I really believe mental health and wellbeing is an integral part of education that children need to be more educated in growing up and the work Mindapples are doing on implementing these in schools now is so important; absolutely something I wish I had been given the opportunity to have. Mindapples sessions should be given in every school.
Tilly, Mindapples Champion
It's been fantastic to have Tilly's thoughts on our training, and great to know that these tools and resources would have been helpful and beneficial to her when she was at school.
This week we launched our first crowdfunding campaign, to support our work with schools to promote mental health and wellbeing for pupils, teachers and the wider school communities.
You can find out more about our Big Give Campaign here. Please help us fundraise by:
making a donation – anything you give between 30 November and 7 December will be doubled by our match-funders!
sharing our campaign pack and video on social media
nominating a school, or sharing the campaign with a school who might need our support
Learn more about Mindapples for Schools, and for more information on our free support for UK universities, the Mindapples Champions Training or our Big Give Campaign, please contact hello@mindapples.org.