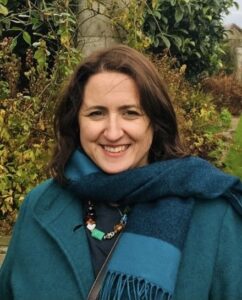 Hanna is a postgraduate student with the Open University. She volunteers as Representative for Wales at Open University Students Association and is a mum of three and fan of terrible jokes!
We were delighted to chat to Hanna about her mind, mental health and wellbeing, and how a Mindapples webinar helped her to start thinking of ways in which she can support other students to take care of their minds.
1. Tell us about your mind. What's it like up there?
My mind is often like my well-used diary that is bursting at the seams with lots of bits of paper and receipts sticking out! There are many lists of things to do but it is also a place that I jot down my random thoughts, favourite bad jokes and keep a few treasured photos and cards from my children.
At times my mind also resembles my laptop with far too many interesting browsers open at once – and just like my laptop, I often have moments when my mind gets too busy and I grind to a halt for a while to reboot!
Having a busy mind is not always a bad thing though, I enjoy being creative and learning new things. However, I have come to appreciate the importance of pacing myself, resting when I need to and trying to deal with one thing at a time.
2. Why do you think we need to talk about mental health and wellbeing?
There have been so many positive changes in relation to mental health and wellbeing in recent years and it is vital that this important work continues in all areas of society, supported and encouraged by all of us. I can see the discussions around mental health and wellbeing in my children's schools and am encouraged to see that these discussions are genuine and impactful.
3. What's your advice for getting people talking about mental health and wellbeing?
Something we can all do as individuals is to be aware of our own mental health and wellbeing and to understand what support is available, whether for ourselves or others.
We can lead by example but also need to be sensitive that other peoples' comfort levels talking about mental health and wellbeing may not match our own.
Listen well.
4. How have you used Mindapples in your work or your organisation?
I started my volunteer role with the Open University's Students Association fairly recently and it was wonderful that the idea of Mindapples was introduced as part of my induction training together with an invitation to regular wellbeing check-ins. I also had the opportunity to join the Mindapples webinar during our recent Freshers event which helped me to start thinking of ways in which I can support other students to take care of their minds and to make it part of a regular dialogue.
5. What do you do that's good for your mind? What are your "mindapples"?
For me, it's getting outside for a long walk, whatever the weather. Walking back from the school run is a familiar route so I often pick up some speed and let my mind take a bit of a break while I get into my stride and notice new details in the familiar surroundings.
I also love music and playing the piano has always been a means of relaxation verging on a form of meditation. These days I am often accompanied by my children playing the kazoo or recorder – which provides a different sort of distraction, but a distraction nonetheless!
Hannah Silk is a postgraduate student at the Open University and Representative for Wales at the Open University Students Association.