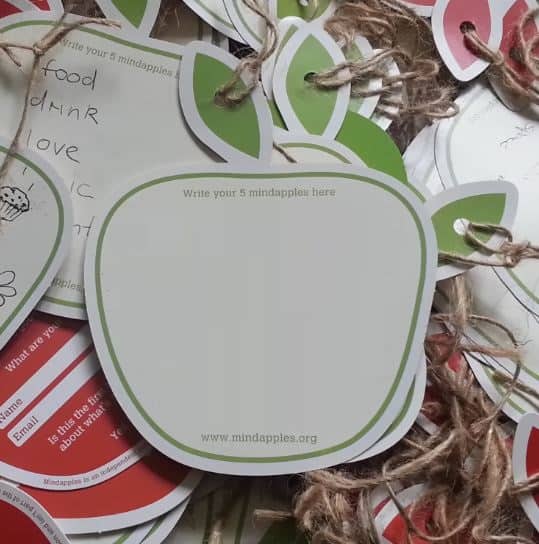 The aim of Mindapples is to help everyone take better care of their minds. Research carried out by Mindapples and the charity Mind in 2013 showed that more than half of the people surveyed had never thought about the health of their minds, and 56% of the people wanted to know more about their mental health and wellbeing.
We want to make taking care of our minds as natural as brushing our teeth
To help improve public mental wellbeing, the Mindapples approach consists of engagement – encouraging people to think about their mind – and education – increasing public knowledge of how the mind works.
Engagement
The first step is to engage people in a conversation about their minds. The question "What's the 5-a-day your mind?" encourages people to reflect and consider what they already do, or what they could do, to look after their minds. The question prompts self-observation, which in turn highlights the fact that we already make choices every day that affect our wellbeing, whether positively or negatively.
What's the 5-a-day your mind?
Self-reflection and self-awareness increase the conceptual understanding of the mind. This provides motivation for individuals to further consider the choices they make, make any changes to improve their wellbeing and seek out practical tools for taking  better care of their minds. Engagement is the core of the Mindapples campaign, spreading the positive message throughout the UK and beyond.
Not only does the 5-a-day question prompt introspection, it also starts conversations about mental wellbeing. It resonates with many people and is easy and interesting to ask others, so encouraging people to share ideas and information about what works for them and making mental health a normal, everyday topic. Interaction which helps people gain a better understanding of others and increase perspective.
Education
Once a person has consciously considered their minds and the effect the choices they make can have, Mindapples aims to improve public mental wellbeing by increasing the knowledge of how the mind works.
One day we'll all know as much about our minds as we do our bodies
Through Mindapples' science-based training and education, Mindapples shares practical tools and information to increase the understanding of the mind to help people make better informed choices. By learning about psychology and mental wellbeing, an individual gains an increased sense of control and can apply this practical information to every day life, work and relationships.
The Mindapples training programmes have been independently evaluated by the University of York and shown to increase psychological literacy, wellbeing and resilience. A better understanding of the mind leads to overall increased mental effectiveness.
By combining engagement and education, Mindapples works towards improving the mental wellbeing of people of all ages and backgrounds. If you would like to get involved either by joining the campaign and spreading the word, or finding out more about Mindapples education and training programmes, get in touch!
Survey conducted by Populus for Mind & Mindapples in June 2013