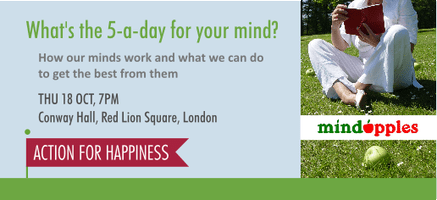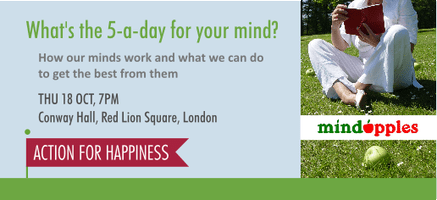 Please join Mindapples Founder Andy Gibson at the next Action for Happiness event in London.
Andy will be talking at the Conway Hall this Thursday 18th October 2012 about how our minds work and why we should get the best from them.
Our minds are our most precious asset, but how much do we really do to look after them? If we can take care of our bodies by going to the gym, or eating an apple, then what's the equivalent for our minds?
Join Andy for an intensive hands-on introduction to how our minds work and why we should all learn how to get the best from them. From the hidden power of the subconscious to the physiology of influence, it will be a fascinating introduction to the power of our minds, including practical tips for managing our moods, understanding our decisions and being more mentally effective in our life and work.
Tickets are by donation to Action for Happiness.
Find out more about the event and book tickets here:
www.eventbrite.co.uk/event/4531022410