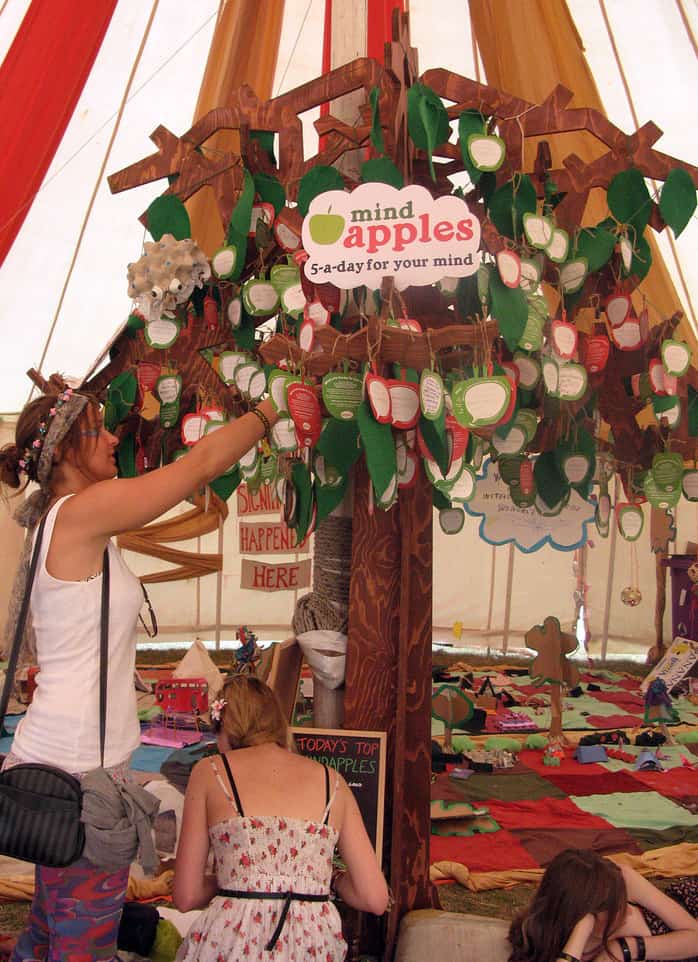 The time has come again to get the mindapples tree back on the road and come and meet all of you wonderful people. Yes, it's the festival season!
We feel very lucky to have been invited back to the four fantastic festivals we visited last year, as well as some exciting new ones too. Here's where we'll be over the next couple of months:
Larmer Tree Festival: 13th -17th of July
A 5-day fun packed affair with music, comedy and whole variety of workshops at the border of Wiltshire and Dorset. A new addition to the Mindapples itinerary, we're excited about starting off our festival season at the Larmer Tree Festival.
Secret Garden Party: 21st – 24th of July
Our flagship event. After a great success last year, we're very pleased to be coming back to the Secret Garden Party – and this time running our own Mindapples Tent. Come and find us near Centre Camp and relax under the Mindapples Tree with a whole load of fun ways to feed your head from our friends and collaborators.
Camp Bestival: 28th – 31st of July
So who's coming to Camp Bestival? We sure are. It will be another great year of music, comedy and overall fun. Set by the stunning Lulworth Castle, we can't wait to see everyone's fancy dress and have a giggle.
The Big Chill: 5th – 7th of August
With an impressive line-up this year with the likes of Kanye West and the Chemical Brothers, we're looking forward to returning and meeting all you lovely people under our new tree. Come say hello between the acts, and in the meantime check out their Spotify playlist.
Playgroup Festival: 5th – 7th August
Small but perfectly formed, we can't wait to head back to Brighton for this year's Playgroup Festival. Not only will there be live music, but also all sorts of games and activities, cabaret acts, installation art – and even magic!
Wilderness Festival: 12th – 14th August
From the organisers of Secret Garden Party, we've been invited to run a tent at the brand new Wilderness festival in beautiful Oxfordshire. Celebrating the great outdoors, it will have lots to offer – from live music, fine dining to literary arts. It will even have a wilderness spa for ultimate relaxation – definitely a mindapple.
Thames Festival: 10th – 11th September
To wrap it all up, we're returning home to London for this year's Thames Festival. We'll be by the river under our various battle-hardened Mindapples Trees, so come say hi! It's all free of charge so do come by to enjoy the art and entertainment and celebrate the city with fellow Londoners.
So there we have it, our festival plans for the summer. Needless to say, we're looking forward to it, but most of all we can't wait to meet those of you who can make it and have a chat about what you think is good for your mind. Come and say hello, share your mindapples, and we'll also have various types of entertainment and a whole bunch of giveaways to share with you. Let's just keep our fingers crossed for good weather so we can lounge around under our tree in the sunshine and enjoy our mindapples.
Hope to see you there, happy festival season!