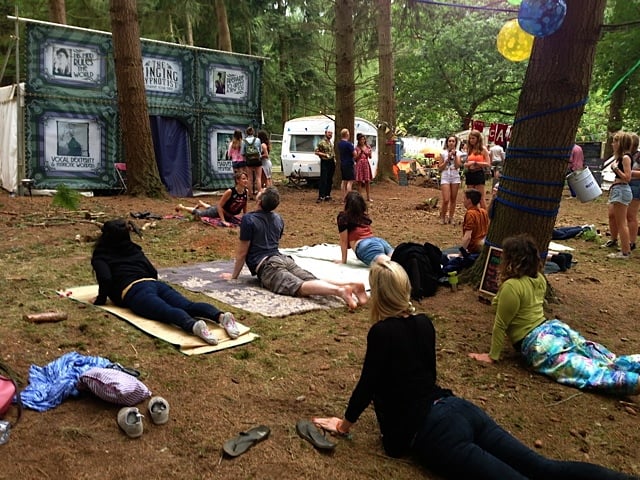 I have a lot of conversations about meditation.  And over the last few years, as the mainstream interest in meditation has grown and I've met more and more people wanting to learn the practice and the theory of meditation – and in particular mindfulness-based meditation –  the supply to satisfy the demand of that interest has not been able to keep up.
It's too hippy for me.  This is the most common complaint that I hear from people who have either attended introductory meditation classes or have flirted around the religious end of the spectrum that is meditation provision.  Mindfulness-based meditation has Buddhist origins and so it is for very good reasons that much of its presentation is wrapped up in the language and culture of the various Buddhist traditions.  This isn't necessarily a bad thing but religious trappings can stick in the throat of those of us brought up on militant secularism and so can be so cringe-worthy that people who are genuinely moved to realise the benefits meditation can allow can be put off for life – thinking that all meditation looks like the particular form they encountered.
It's too clinical for me.  As I've talked about here before, while the first wave of meditation to hit the West was religious, the second wave was clinical.  By pioneering the application of mindfulness-based techniques to the treatment of clinical mental health issues, there has been a successful and exciting translation of meditative wisdom into clinical practice.  The legacy of this fine work is that, in contrast to the one pole where meditation is seen within a religious context, we now have the other where it is seen within a formal clinical or therapeutic context.
The missing middle. However the majority of the people whom I meet and speak to tend to fall within these two pole…what I call the missing middle.  They are interested in the transformative potential of meditation, from stress-reduction to spiritual inquiry, but they want it expressed in language they understand.  This missing middle is where this third wave of meditation will come into its own – defining a meditation that is not religious, not clinical but that unites the benefits of both those approaches and it literate to the realities of our times.
It's here already.  But please don't get me wrong…it it not that there aren't people teaching meditation in this new and exciting space already, it is just that this is still very much an emerging area and so there is the potential for a lot more innovative approaches.  So when people ask me to point them to what I consider the best of the material currently available, I normally suggest one of the following:
But this is only the beginning.  And what it all points to is an exciting period of evolution of how meditation is understood in our society.
This is a guest post by Rohan Gunatillake. Rohan is the founder of the Here&Now Project, a new initiative which raises awareness of the full potential of modern meditation as well as imagining new approaches for its expression.