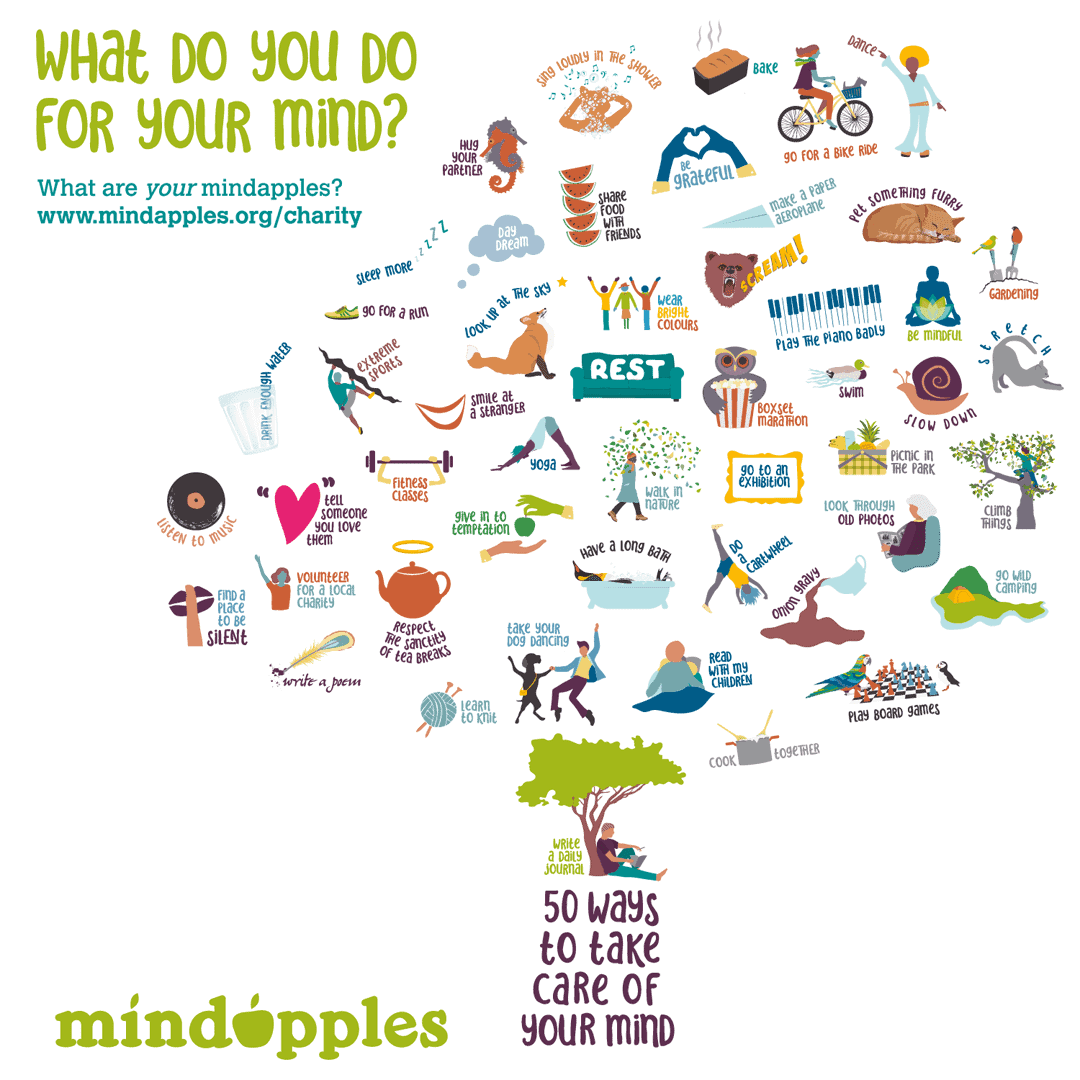 Nicola Powell is the Training and Wellbeing Officer for the Open University's Students Association, a Mindapples Champion, a keen traveller, cook and music aficionado! You can find out more about Nicola, the way she uses our training, tools and resources in her work at the Open University and what her mindapples are – the activities she does to take care of her mind (including a fig roll resurgence!).
1. Tell us about your mind. What's it like up there? 
I'm afraid I have a monkey mind. It's full of chatter and generally feels chaotic… The only time it stops is when I do a yoga class. I've practised yoga for 15 years and it has become habit to be fully present in that one hour a week.
Other than that, the only time the monkeys were quiet was when I was travelling around Hong Kong and stood beneath the 34-metre-tall Tian Tan Buddha on Lantua Island and just looked around me…
Lo-Fi helps too, as the monkeys sit and chill out to that!
2. Why do you think we need to talk about mental health and wellbeing?
Barriers to talking about our mental health, particularly when it is poor or out of equilibrium with the rest of our body, are coming down. Normalising talking about our mental health and wellbeing when we are in a good place makes it easier to understand we are not alone, seek treatment and then maintain good mental health.
Having sons and grandsons, I am glad men are now talking about their mental health openly, and so glad it's now part of education in schools.
3. What's your advice for getting people talking about mental health and wellbeing?
Being openly supportive – being a Mindapples Champion as well as a Mental Health First Aider, I am aware of a response to 'hello, how are you?' not sounding quite right, and asking further open questions to see if someone may want to reach out.
4. How have you used Mindapples in your work or your organisation?
Since doing my Mindapples Champion training in January 2020, just before the chaos and worry of the pandemic, I had to pivot from delivering face to face modules such as 'Feed your mind' to online. This turned out to have several advantages, the main one being, a session could be delivered to OU students and our student volunteers who were taking part from other parts of the world!
The staff at the OU Students Association are all still working from our homes, and wellbeing has become even more important to us, and our Mindapples are helping us every step of the way.
I now have a Mindapples tree in my home office, and during our Wellbeing Week, I will populate it with Mindapples cards from my colleagues and student volunteers, ready to display when we are back together.
5. What do you do that's good for your mind? What are your "mindapples"?
Travel is my number one "mindapple". I curtailed my permanently itchy feet over the last 18 months by taking part in webinars from Wanderlust. I've watched presentations from places I've been and places I may never go, and it has been thrilling connecting with people around the world.
I also cook, again with a flavour of travel. I immerse myself in Mexican, Greek, Spanish, Portuguese, and Indian nights, cook the delicious vegetables and fish of the country, stream the music, and set the table to reflect the cuisine.
Cycling and yoga keep me going too! And this last difficult year, I rediscovered the fig roll. Simply delicious!