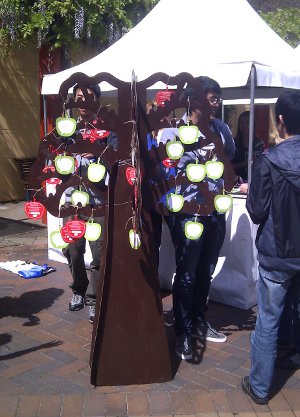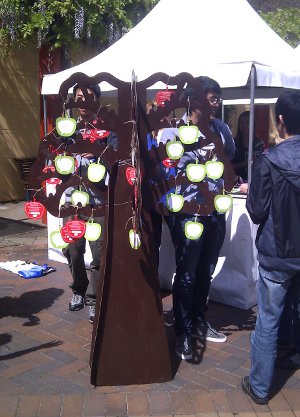 Things may be upside-down in Australia but they've obviously got their heads screwed on right, because Mindapples has made it to Sydney!
Since we started selling cardboard mindapples trees last month we've had interest from all sorts of unexpected places, the most glamorous of which is definitely the University of New South Wales in Sydney.
The students and staff at their Student Minds group were looking for ways to get students talking about the difficult subject of mental health, and the mindapples tree has been the perfect talking point at their recent promotional events.
Nathaniel Smith, Project Officer at Student Minds, University of New South Wales said:
"The Mindapples tree was of great value for our Student Minds event. The students at UNSW loved it, and found it to be an interactive and engaging way of discussing what remains a difficult subject for most. Having a big cardboard tree was obviously an effective tool for drawing curious students over to our stall. It showed students that although we're committed to talking about a tricky topic in mental health, we want to do so in a positive and colourful manner."
The tree seems to have acquired a little tan in the Sydney sunshine – the students decided to paint it brown – but it's looking great and we'd recognise those colourful mindapples anywhere.