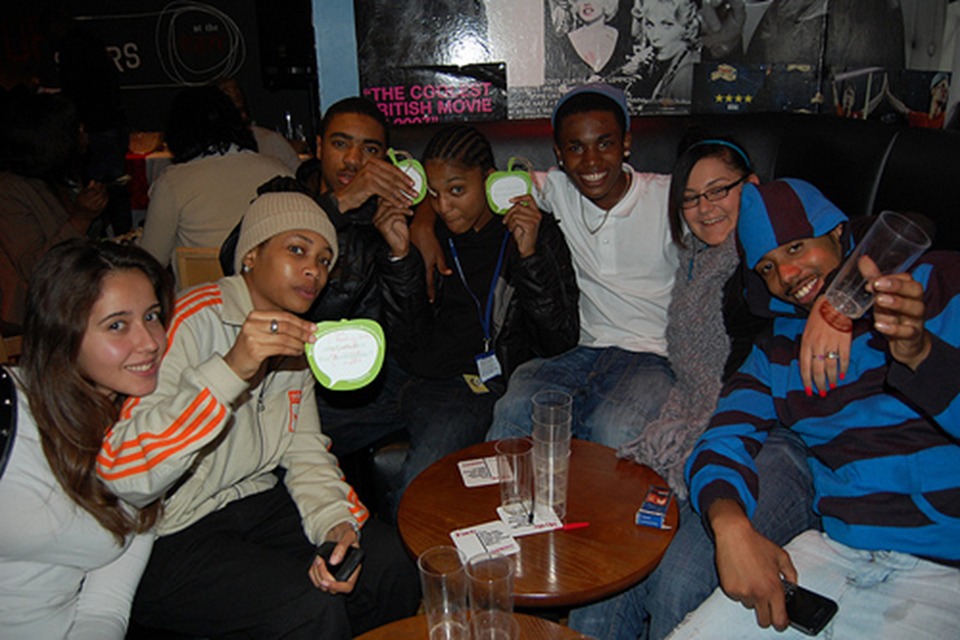 As someone who has taken an interest in the growth and development of Mindapples over 2010, I thought you might appreciate a little update on where we've got to and where we're headed!
NHS pilot
As I announced earlier this week, we now have a confirmed grant from Guys and St Thomas's Charity to pilot Mindapples with GP surgeries across Lambeth. We will be installing Mindapples materials in four Lambeth GP practices to begin with, and asking the staff and patients of each practice to share their Mindapples via the installations. Mindapples will then be analysing the responses and helping the practices design simple ways to support the wellbeing of their staff and patients, and we'll also then do follow-up marketing and digital engagement services. The project will be evaluated by the Institute of Psychiatry and Kings College London to give us a core evidence base to show to other funders and NHS organisations, particularly with a view to selling services to the new GP consortia when they're established in 2011. We're looking to recruit some volunteers and interns to help with this project, so if you think you have something to bring please e-mail iseehealthypeople@mindapples.org
Engagement events
In the past six months, the Mindapples Tree has travelled to the Future Gallery in London, the Secret Garden Party, Camp Bestival, the Big Chill, the Playgroup Festival, Brixton Market, Millwall FC and the NHS Confederation Mental Wellbeing Conference. Over the summer we have harvested over 1255 mindapples, including 444 from the Secret Garden Party postboxes and tree combo alone. I'm particularly pleased with our Brixton Market event, in which we popped up one Saturday and successfully engaged 170 total strangers in sharing their mindapples in just three hours. There are also lots and lots of photos online now on our new Flickr page. Thanks to everyone who volunteered to help out, particularly Hege for the Big Treat, Jenny and Lucy for the festivals campaign, and Esther for all the recent conferences and pop-ups.
Big thanks also to Lucy for doing the evaluation on all this for us, and if you'd like a copy of the evaluation report please e-mail ilovestatsmmmmlovely@mindapples.org.
The People Speak have made this great video of our Brixton Market event. Please do send it on!
[youtube=http://www.youtube.com/watch?v=7x8gXSCA4Ww]
Fundraising
Thanks to many people and to Esther, Mandeep, Amanda, Christine and Tessy in particular, we have also submitted a large bid to the Maudsley Charity for core funding and product development, and will be applying for various other charitable grants in early 2011 using the evidence base we've collected over the summer. Fundraising has been slow though, mainly because of our lack of core resources, so we're looking for help in this area urgently. There's a lot we don't know in this area and I'm sure we could be doing more. Any help you can offer with our next round of funding bids would be amazing. Please e-mail iknowhowtogetmoney@mindapples.org
Sales
We have been developing a range of products to sell to commercial and healthcare clients for a while now, and we are finally making some headway. Focussing at this stage on engagement services, particularly workshops, digital tools and promotional materials, we are getting a lot of enquiries and now some sales for workshops and installations to commercial and charitable clients. We are hoping to grow this workshop business in 2011 and then offer our clients higher value services that deliver deeper wellbeing outcomes, including digital subscription services and offering Big Treat events for staff in large workplaces. Of course there's a lot more to do here, but we're definitely making good progress, and we are confident now that there is a market for what we do. For more information on our products and services, please e-mail buyingthingsmakesmehappy@mindapples.org.
Talks and lobbying
We've been something of a hit at conferences and with the wider policy community recently. Huge thanks to Marjorie for her great efforts promoting us at the Tory and LibDem Conferences, and I've also spoken at the Guardian Social Care Conference, the NHS Confederation Mental Wellbeing Conference, the SLaM NHS Wellbeing Conference, the Robertson Cooper Business Wellbeing Network Conference and also various social innovation events and meetups. At the Business Wellbeing Conference, we were on the same bill as Lord Richard Layard, and the Mindapples session was voted the most popular of the day by the 100+ delegates, a staggering 4.76 out of 5! Thanks to Tony, Lucy, Gregor, Nicola, Ravi and others, we're also becoming increasingly known within the NHS and the policy community, and have been consulted on the various White Papers emerging from the new Government. Tessy and I are now hoping to build on this by writing a policy pamphlet about the innovative Mindapples engagement methodology. If anyone would like to help us by doing some research into mental health promotion policy for this pamphlet, drop us a line at mylittlepolicywonk@mindapples.org.
Website
Back in the Summer, we received a Better Net Award from UnLtd and Nominet Trust to redevelop our website, and huge thanks to Hege, Rose, Victoria and Analia for all their help with that. The new site was built by Unboxed Consulting, Sangeet and Tom, and thanks to Hege and Gavin for their help too back in July. It's basic, but it's a great starting point and we're consistently getting a few signups a day without any promotion. We'll promote it more heavily once we've got the next version up, which will include Networks functionality to allow organisations to have their own mini-mindapples survey and community, and also various follow-up engagement tools. If anyone would like to help me test the next version of the website, please e-mail me at makemeataster@mindapples.org.
Organisation
We founded Mindapples as a non-profit Company Limited by Guarantee in May 2010, with myself, Tessy and Hege as the initial guarantors. Thanks to Nicola and Esther we are now properly set up with good accounting processes, VAT registration and all those other grown up things. We have also been slowly professionalising the organisation, with things like IP licensing and confidentiality agreements and the beginnings of contracts for staff and volunteers. I think we are in good shape for the coming year of expansion, although obviously there's always more to do in this area. I'll make sure we share as many of our models as we can to help other start-ups. Thanks very much to Louise for her support and constant favour-pulling to get us the advice we've needed in this area. We definitely need more help with our communications next year, so if you can help us send updates to the Gardeners and our wider community, please contact meandmybigmouth@mindapples.org.
As you can see, it's been a very busy year and many people have contributed to our successes in 2010. I'd particularly like to thank Hege, who worked tirelessly on the Big Treat earlier in the year and has now gone on to found her own project, All We Need; Esther, who has taken on all our operational management in recent months and is doing amazing work turning us into a Proper Organisation, Amanda, Jenny and Lucy for all their great work at our events and writing such great reports, and particularly to Tessy for working a lot harder than people realise behind the scenes, keeping me (mostly) sane and quietly pushing things in the right direction at all times. I remain really proud and privileged to have so many talented and enthusiastic people helping me to make Mindapples a success, including all of you out there in our extended online family. THANK YOU ALL for your hard work, support, advice, and most of all for believing in this project. 2011 is going to be a very good year.
A very happy Christmas to you all.