Helping VInspired's young volunteers promote wellbeing in their communities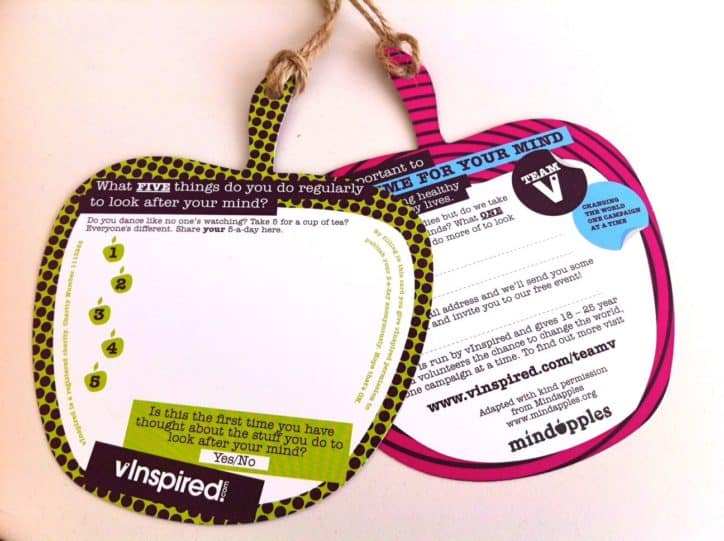 A partnership project with youth volunteering specialists Vinspired, to train and equip 100 young volunteers with their own mindapples toolkits and send them off round the country to promote mental wellbeing.
In 2013, Mindapples teamed up with the youth volunteering charity VInspired to promote mental health and wellbeing all around the UK. VInspired encouraged a generation of young people to volunteer through national campaigns, delivering over one million volunteering opportunities for 14-25 year olds.
This campaign, led by VInspired in partnership with Mindapples, Mind and Action for Happiness, used our "5-a-day for your mind" concept to start positive conversations across the country about what we can all do to take more care of our minds. Mindapples provided training and support to the young volunteers, giving them initial briefings and advice on how to run their activities, and supporting them at the end of the project to celebrate their successes. We also developed co-branded "Team v" mindapples cards to help them start positive conversations about mental health.
The campaign was one of Team v's most successful ever, and reached thousands of people all around the country with positive messages about looking after our minds, showing the value of Mindapples' innovative engagement approach and event tools. At the end of the eight week campaign, Team v's 80 youth leaders had spoken to over 3,500 people around the country, of which almost 3,000 said they'd do more to look after their minds.
The "Making Time for your Mind" campaign promoted healthy minds and happy lives across Britain.
Using their very own special edition of our applecards, Team V volunteers asked people "What's the 5-a-day for your mind?" and invited people to pledge one thing that they would do more of to look after their mental wellbeing.
Here's the launch video for the campaign.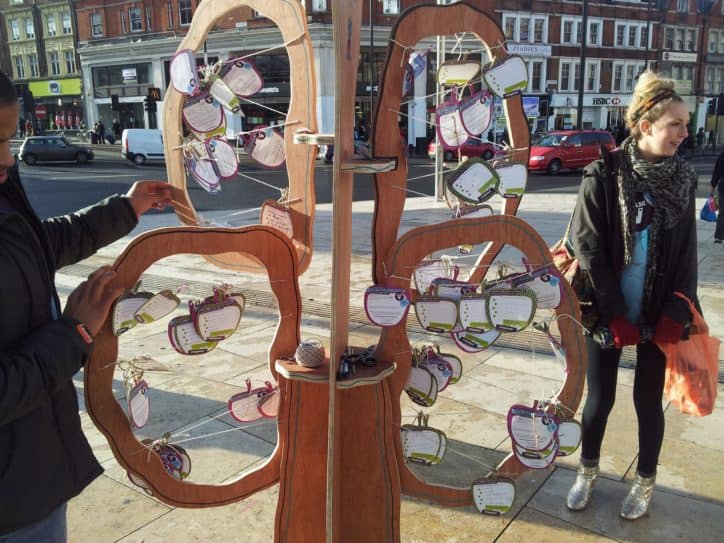 One of the volunteers, James, kindly wrote a blog for us about his experiences, which you can read in full here. In his words:
"what surprised me was how well the Mindapples cards were received. I loved them but was dubious as to how the general public (students) would feel. I tested them during my first volunteer meeting, using them as an icebreaker. My volunteers loved their simplicity and how they engendered conversation about our minds. It wasn't long before I had used all the cards.
In 28 days we had filled out 200 Mindapples cards, made and given out 350 pancakes, 500 happiness packs and 650 Valentine's Day cards."
"Make Time for Your mind was an incredible way to break through the stigma and talk about an important issue," said Beth Whitaker, a 2012/13 Team v leader, "Mindapples have a wonderful way of tackling mental health by making people realise how little we do for our minds. We [Team v] campaigned across the country in a way that was fun and engaging. It was definitely my favourite campaign."