Crowdfunding our work to support UK schools
The Mindapples Charity took part in The Big Give Christmas Challenge 2021, a match-funding campaign which ran from 30th November to 7th December 2021. With the support of our match donors and all our amazing supporters giving what they could online, we raised over £20,000 to provide wellbeing support to 100 schools all around the UK.
We want to give particular thanks to our private donors who put up the initial pledge money, the Four Acre Trust who agreed to match-fund our campaign on the Big Give, and Know Thyself and the Topinambour Trust who donated substantial sums to the crowdfunder. Congratulations to the team here on running such a successful campaign, and thanks to everyone who donated to the campaign and shared it with their friends and colleagues.
We want to work with 100 schools around the UK during 2022. If you know a school that needs our help, please let us know:
Our vision is of a world where taking care of our minds is natural and normal for everyone – and this starts with children and young people. We all each have an amazing opportunity to improve our lives, simply by taking better care of our minds. Let's give young people the tools to do just that.
Mindapples in action
Want to know more about how our work helps teachers, pupils and parents? Check out this unbelievably cute video that we made with the lovely folks at St Mary's Catholic Primary School, Bath. You can still help us support more schools by donating to the Mindapples Charity. All the money you give us will go to fund more places for schools on our wellbeing support programmes.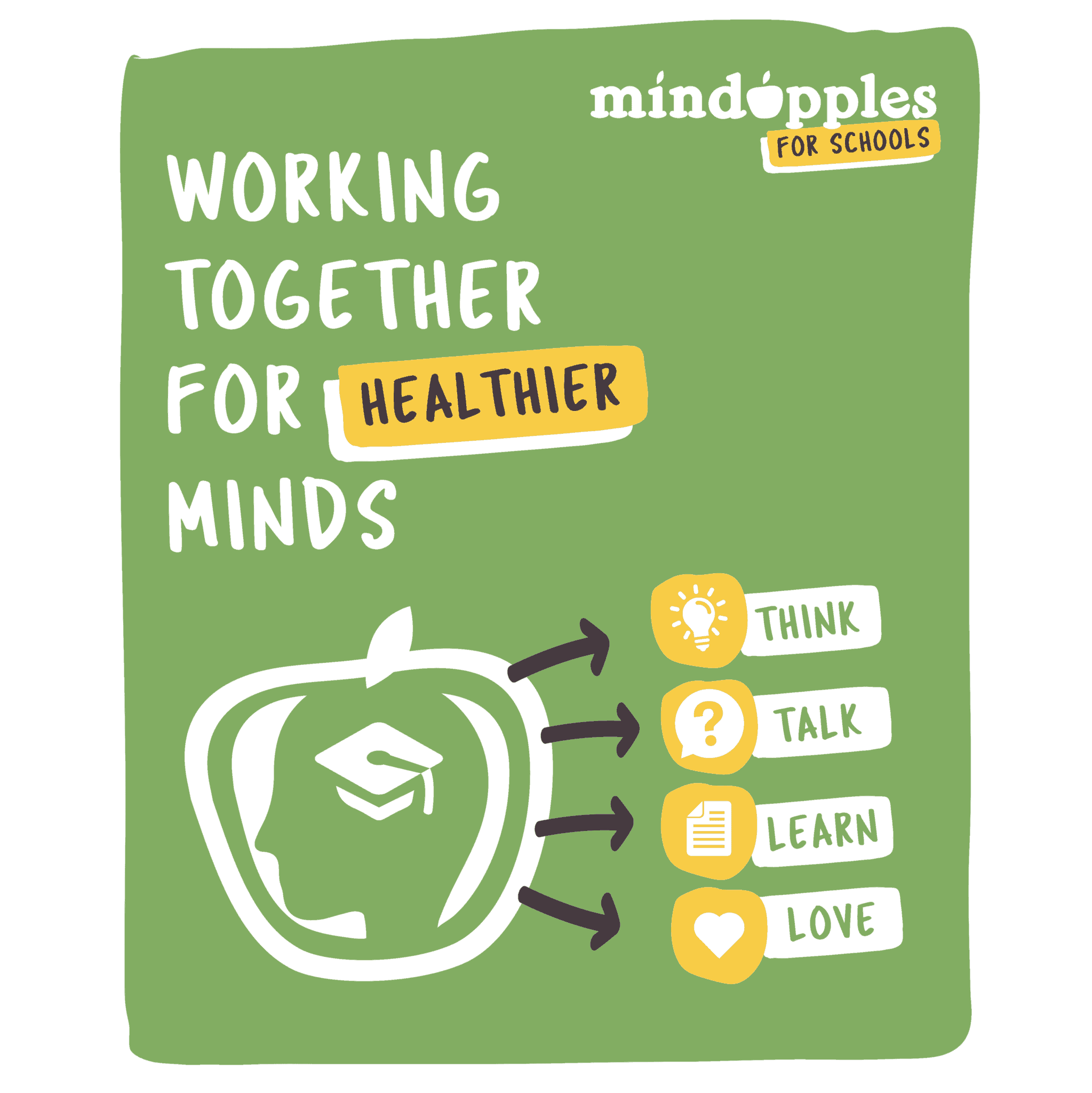 Let's help more schools!
Mental wellbeing and resilience became a statutory part of the curriculum for primary and secondary schools in September 2021, and we want to help schools deliver on this promise to young people. Mindapples has developed a package of training and classroom resources to support teachers in delivering the new curriculum, and an approach to mental wellbeing that can benefit the whole school community of staff, pupils and parents.
Our training and support packs equip school staff with the awareness and understanding they need to take care of their own minds, and the tools to help them start positive conversations about mental health and wellbeing with pupils, colleagues and families, to build cultures which promote healthy habits and open conversations.
As part of the Big Give package, we provide schools with wellbeing campaign packs, lesson plans and assembly resources to help them promote mental health and wellbeing to the whole school community – including pupils, staff and parents.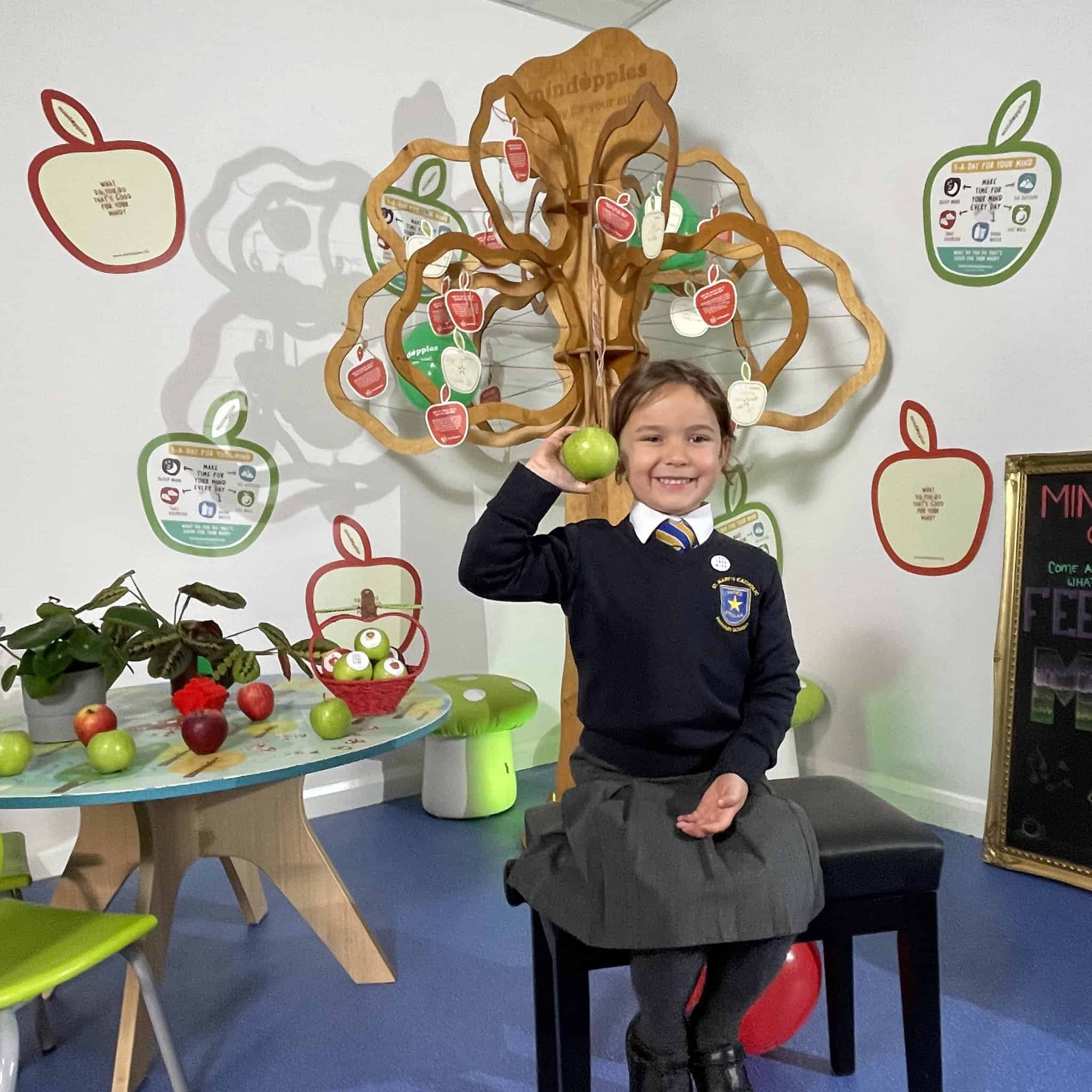 What teachers say
Here are some of the things our partners are saying about Mindapples for Schools:
"Our children have hugely benefited from a strategic approach to supporting their mental health and wellbeing upon our full return to school" Heber Primary School, Southwark

"The Mindapples training surpassed all expectations I had for a thought provoking, interesting and informative training course…. we are working with our students on their emotional wellbeing on a daily basis." Atlantic College, Llantwit Major
"We really loved the apples, it's just a lovely visual way for the children to think about those things which are positive for them and as it's such lovely quality card it makes it feel really special" St Mary's Roman Catholic Primary School, Bath
Promote the campaign
Many people helped promote the campaign online. We developed a mini campaign pack so people could use the tips and sample copy in emails, social media posts and newsletters.
Download the Big Give campaign pack
We also created a number of shareable images for supporters and partners to use in the campaign. Here's a selection of the best ones: