Helping youth mental health specialists at Young Minds start conversations
Young Minds are the UK's leading provider of mental health support to young people. They want to see a world where no young person feels alone with their mental health, and all young people get the mental health support they need, when they need it, no matter what.
Mindapples has partnered with Young Minds since 2014 to help them start positive conversations with young people about the health of their minds. They approached us following our successful work with students and young people to see if they could incorporate our "5-a-day for your mind" campaign into their introductory sessions with young people.
We wanted to help Young Minds incorporate Mindapples into their work without the need to come back to us for additional services or licence fees. The goal was to get young people talking about their minds in the lightest way possible, to attract as many young people into the conversation and get them thinking – possibly for the first time – about their mental health.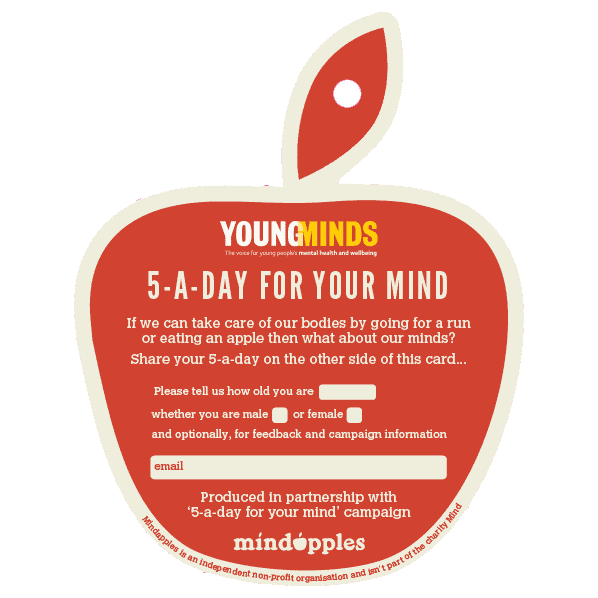 Working in partnership
We developed co-branded mindapple cards for them to use, which were included in the handouts and session packs for all their youth engagement workers. The engagement workers were able to use the cards without training, to ask young people to share their mindapples "5-a-days" and facilitate a conversation about
The project was our first trial run at scaling up our campaign through event toolkits and applecard packs. It demonstrated that other charities and volunteers could use our tools to promote mental health and wellbeing with little or no additional training, meaning we had a genuinely scalable campaign tool for improving public mental health.
Young Minds are now engaging thousands of young people around the UK in taking more responsibility for their mental health, and continue to use our co-branded mindapples cards to the present day. The success of this partnership led us to develop more engagement tools and support for youth services, including adapting our Champions Training course for youth workers at London Youth.
You can do it too! Buy yourself a pack of mindapple cards today to get started.