Healthy treats for mind and body, in partnership with Courvoisier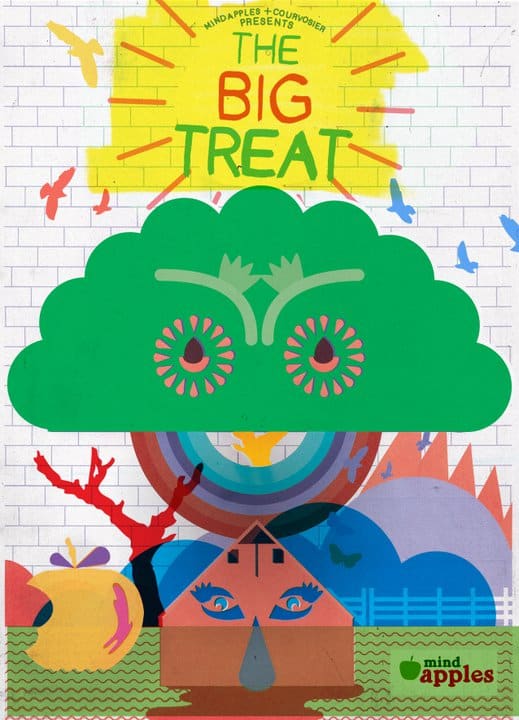 In July 2010 Mindapples teamed up with Courvoisier to present a new kind of treat for your mind and body, a glamorous pop-up health farm at the Future Gallery in Central London.
Our first funded project, The Big Treat was a pop-up event in Central London that showcased luxury treats for mind and body and positioned wellbeing as something fashionable and aspirational. The event was featured in the popular press including Urban Junkies and View London and was a busy attraction in Summer 2010. We even turfed the gallery with REAL GRASS! No kidding.
We partnered with some amazing brands to deliver this weekend of healthy luxuries. The salad and smoothie chain Crussh made healthy food and even designed us our very own Mindapple cocktail (it tasted healthy!). Andy Puddicombe from Headspace ran a meditation workshop for us (thanks Andy!), Positive Touch ran massage sessions, SavvyCook taught us to feed ourselves and Courvoisier threw us a fantastic opening party.
Mindapples produced the Big Treat as part of Courvoisier's two-week Revolutionary Spirit Festival, which drew on the collective inspiration of the Courvoisier Future 500 members to curate a summer of events, including Punchdrunk Theatre's Masque of the Red Death and epicurean extravaganza The Complete History of Food, with long term Courvoisier partners Bompas & Parr.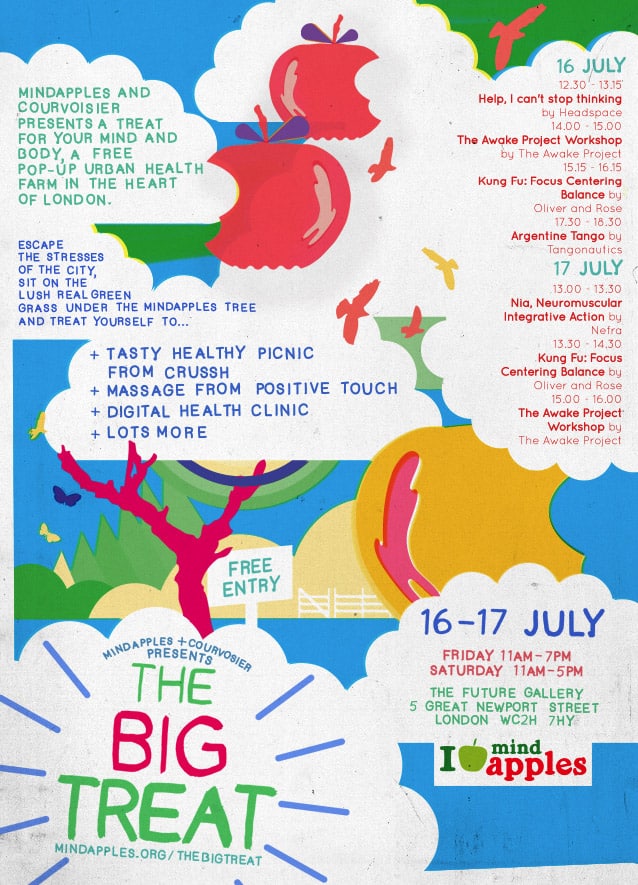 The original programme
The Big Treat, 16-17 July 2010
The Future Gallery, 5 Great Newport Street, London WC2H 7HY
Escape the stresses of the city, sit on the real green grass under the Mindapples tree, and sample some of the healthiest treats around, including:
Friday 16th July 2010
12:30 – lunchtime meditation from Headspace
14:00 – The Awake Project Workshop
15:15 – Kung Fu: Focus, Centering, Balance
17:30 – skip the rush hour and try some genuine Argentine Tango!
Saturday 17th July 2010
13:00 – Nia: Neuromuscular Integrative Action (oooh)
13:30 – Kung Fu 2: another chance to learn Focus, Centering, Balance
15:00 – The Awake Project reprised
+ Tasty healthy picnics from Crussh
+ Massage from Positive Touch
+ Shopping MOT and healthy recipes from SavvyCook
+ Digital Health Clinic