A free mobile app to help young people share their moods, with Comic Relief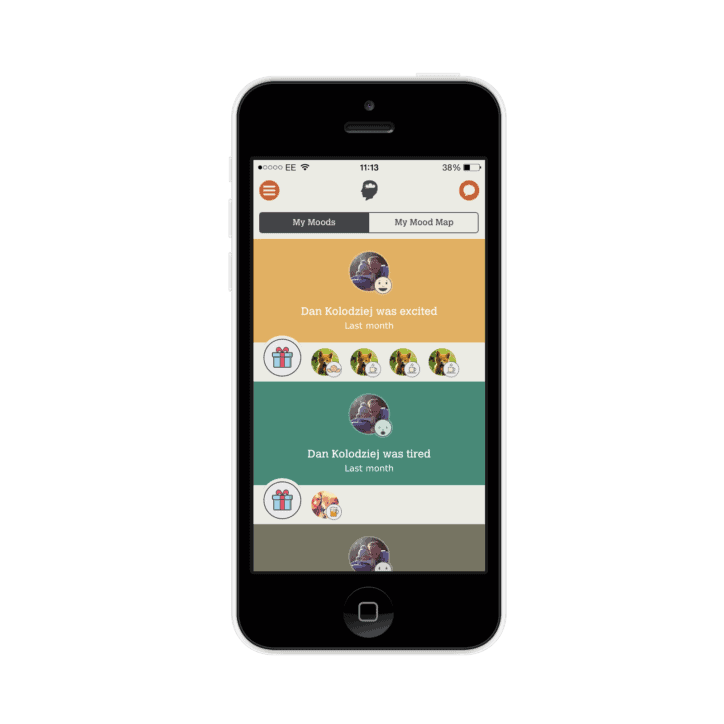 Moodbug was a free mobile app that makes it easier for people to share their moods with friends and strangers. Its goal was to make it easier for us all to talk about how we feel, so that we can have more open conversations and support each other better. It was developed with young people by Mindapples and Gospelware and was released in June 2014.
Moodbug was a non-profit project funded by Comic Relief and the Nominet Trust in 2013-14 as part of their Innovation Labs programme. The programme funded the development of seven web and mobile applications, designed by young people, that would help young people maintain their mental health and wellbeing. Innovation Labs was a partnership between Comic Relief, Nominet Trust, Paul Hamlyn Foundation, Mental Health Foundation and Right Here.
We didn't become the next Facebook or TikTok, but we did pioneer the idea of mood check-ins long before mainstream social media platforms started introducing them. Hundreds of young people downloaded the app and used it to share their moods with friends, and the app was very well-received and reviewed by young people. We incorporated a lot of the learning from Moodbug into our next app project.
Here's how we promoted it
Moodbug makes it fun and easy to express your moods to the people close to you. Its simple 2-swipe system, which has been designed around the latest mood psychology research, lets you share how you REALLY feel about life's ups and downs.
Simply select the people who are most important to you from your phone contacts and start sharing and tracking your moods together. Moodbug makes it easy to keep up with how your friends are REALLY feeling, and you can respond to shared moods by sending free virtual gifts!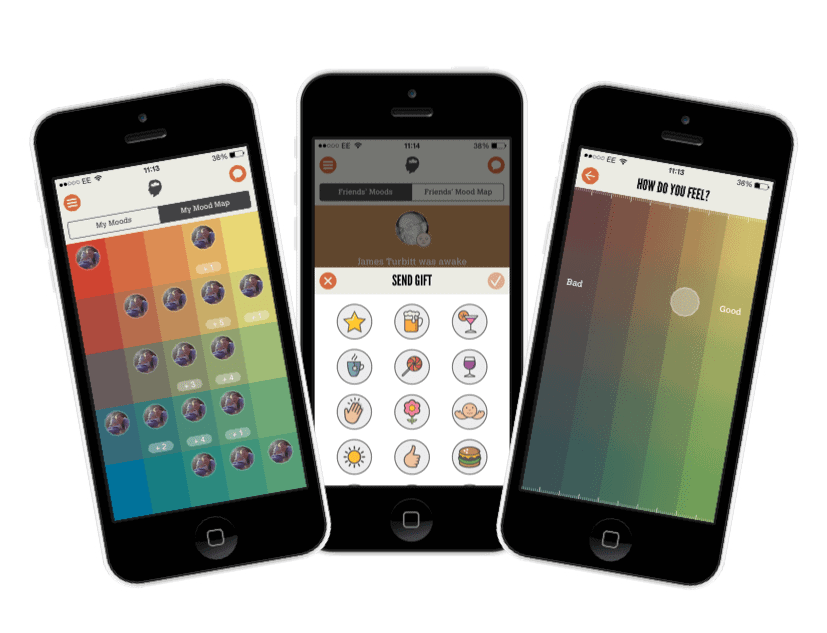 Features
• Easy to add people you care about from your phone contacts
• Share good moods and bad moods quickly and easily
• Track energy levels and activities as well as emotions
• Tag friends to tell them how you're feeling
• Add comments to explain what's going on
• See when your friends are up or down, find out what's happening in their lives
• Respond to friends' moods with free virtual gifts
• Compare moods with strangers too!