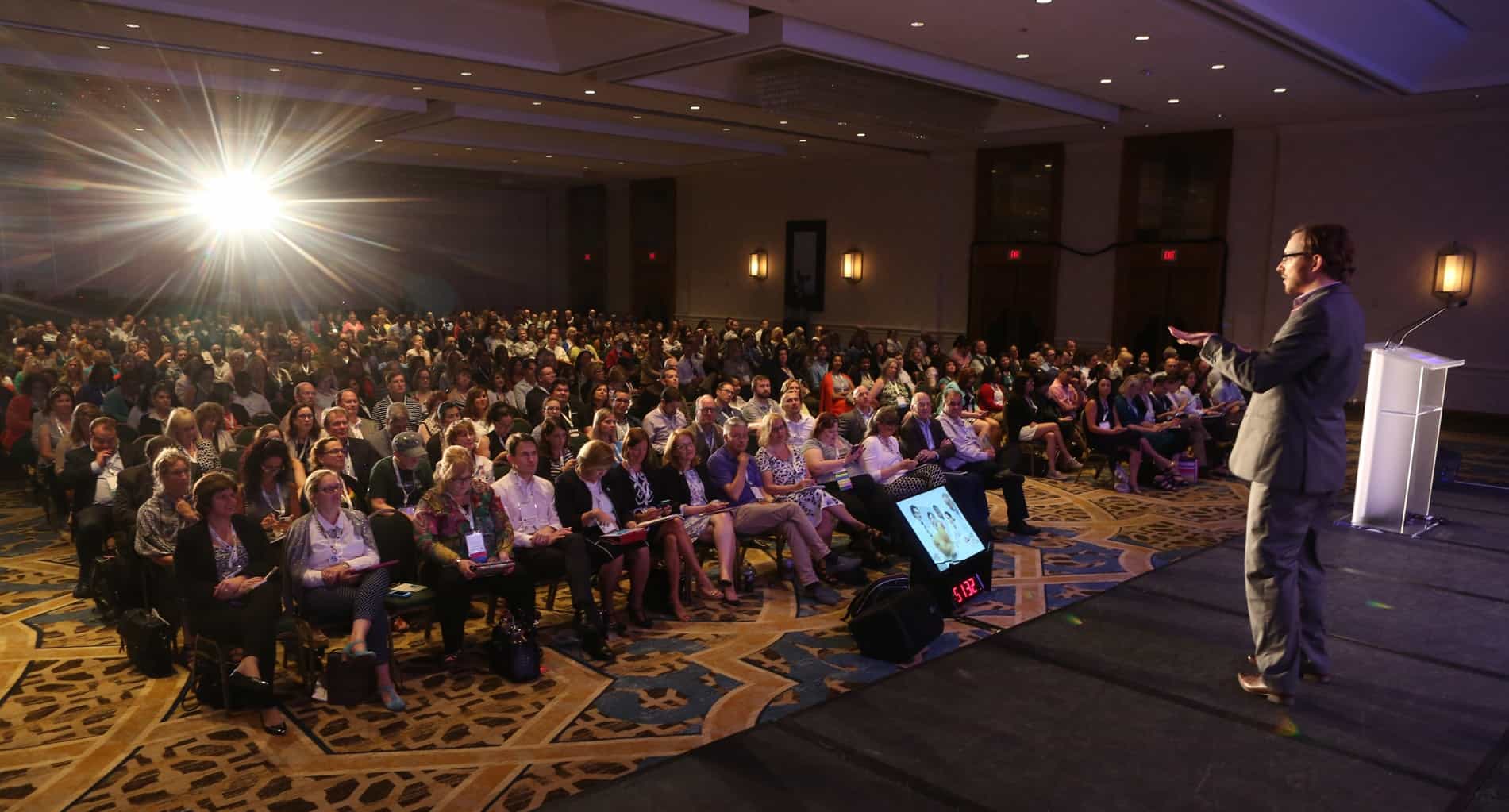 Keynote talks on wellbeing and performance for conferences and town halls
Our trainers are experienced speakers and our founder Andy Gibson is a noted conference speaker who has spoken to large audiences in the UK, USA, Canada and New Zealand.
Our keynote talks introduce similar themes to the core training programmes, but are tailored for large audiences to enable thousands of people to engage with the topics and discuss them with colleagues.
Perfect for launching a wellbeing programme, engaging people on World Mental Health Day, or promoting key messages to all staff in a cost-effective way, we can get people thinking and talking about their minds. Talks can also be live-streamed for remote audiences and hybrid teams.
A guide to your mind
Talking about our minds doesn't have to be heavy or serious. We can take this tricky topic and make it engaging and entertaining, encouraging audiences to share what works for them and reflect on what we all need to thrive.
In this public talk for Courvoisier, Mindapples' founder Andy Gibson introduces how our minds work and why we all need to take better care of our mental health.
Keynote topics
Here are a few talks we can deliver at your conference or event.
Mental health at work
An introduction to why mental health matters at work, and how all of us can benefit from taking care of our minds. This entertaining, interactive talk puts a positive spin on this sometimes heavy and stigmatised topic, and helps everyone think more practically, and talk more openly, about what their minds need.
A mind for business
A presentation for leaders and senior managers on the business case for mental wellbeing, and why wellbeing is crucial for sustained performance. Covering essential topics for leaders from risk management to staff engagement, we should that wellbeing at work is not a luxury, but a core tool for leaders to drive high performance.
A mind for innovation
Innovation is good for business, so how can organisations create the conditions for people to come up with great ideas and find better ways of working? Nurturing a growth mindset, promoting diversity and encouraging staff to reflect and learn can help organisations innovate better, and put new ideas into practice quickly.
Work smarter
Productivity means making work count, not counting work. Find out how our minds work and how simple techniques of concentration and time management can help us get more done and create more time for ourselves.
Find your drive
Motivation means being eager to act, but too often work can feel like a drag. Find out how to motivate yourself and others and encourage sustainable engagement at work by understanding the factors that drive us to succeed.
Contact us now to create a keynote talk that works for your event.